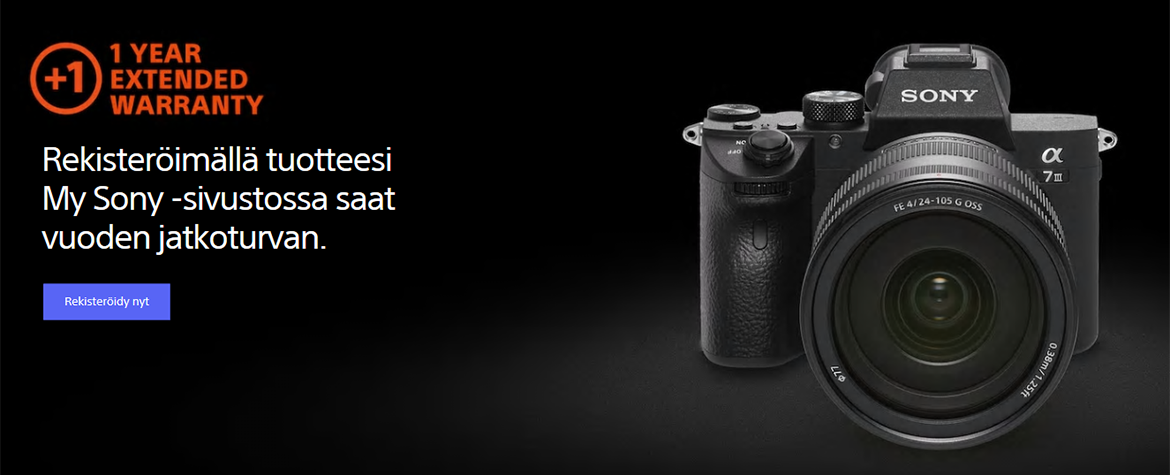 Rekisteröimällä kampanjaan kuuluvan tuotteen saat vuoden jatkoturvan. Lue lisää täältä.


Wide and dynamic footage

With a wide-angle lens it's easy to capture dynamic footage, spotlighting both you and your location when you're taking selfies. Capture more of the city or the natural backdrop, and bring your viewers along with you in a shared experience.

Attention-grabbing background

A fixed focal length lens makes it easy to shoot a vlog that grabs the viewer's attention. This type of lens creates a smooth, natural background blur that lets the subject stand out. It's also useful when you want a brighter image in a dimly lit setting.

Super close-ups highlight the details

Unlike other types of lenses, a macro lens can get you closer to your subject, allowing you to capture the small details at a bigger size than with normal lenses. Whether it's an accessory you're wearing or a meal you're preparing, a macro lens can pull in very close to your subject and show off every glorious detail.

Far-away action

With a telephoto lens, you can shoot far-off objects, scenery or action with clear detail, whether you're vlogging while travelling or just shooting everyday life. Zooming in and out can also add an extra dynamic element to your story.

Expand your vlogging with over 60 lenses

Sony's lens line-up can add an extra dimension to the vlogs you make with the ZV-E10. Sony offers more than sixty lenses that are ideally designed for Sony cameras, including lenses that are tailored to moviemaking. Select from a unique line-up of lenses, and explore your powers of self-expression.

One-touch control of background blurring

There's no need for complicated manual adjustments - just press a single button to turn background blurring (bokeh) on and off. Select "Defocus" for a professional-looking blurred background to draw attention to the main subject, or "Clear" to show the entire scene in sharp focus.

Add drama with slow and quick motion
With the ZV-E10's Still/Movie/S&Q button, you can easily access S&Q mode to shoot slow-motion video1 at a speed 4x slower than real time2 3. Or, by changing the setting, you can shoot quick motion1 3 up to 60x faster. These can be shot without post-editing on a PC, with clear Full-HD quality.

Ideal for product-review videos

Eliminate the frustration of recording product review videos. When the Product Showcase Setting is activated, the camera will quickly and automatically shift focus from your face to a product held in front of the camera, without the need to place your hand behind the product to shift the focus to it.

Natural and smooth skin tones

Without any special settings, the ZV-E10 will capture your skin tone with a natural look. There's also a Soft Skin Effect to smooth your skin's appearance, which is adjustable to OFF/ Low/ Mid /High4 depending on your preference.

High-quality video even when you're moving

The ZV-E10's image stabilisation system can shoot smooth, clean video footage even when you're walking5. Another feature, Face Priority Auto Exposure (AE), will automatically brighten the lighting of your face. Even when you're walking, it automatically detects your face and makes adjustments to keep it brightly lit as you move from indoors to outdoors, through light or shadow.

Automatic, precise focus

Without any settings, the ZV-E10 can automatically track your face and eyes to keep a steady focus without wandering off onto other subjects. When you do want to shift focus, just touch the LCD monitor and the camera will track the subject you choose with AI-enabled Real-time Tracking.

Smooth, professional focus transition

With the ZV-E10, focus speed can be customised to fit the mood, for a more impressive look. The camera lets you choose from seven different speeds, from a quick transition to a more leisurely one.

Shooting grip for smoother vlogging

The optional GP-VPT2BT makes it even easier to take selfies and shoot from high or low angles. You can also access controls on the grip without reaching for the camera's buttons while shooting. With these controls you can start and stop recording, handle zoom operations and set the Bokeh Switch to "Defocus" or "Clear".

The larger sensor makes a difference in quality

The ZV-E10's impressive images are the result of the camera's large APS-C sized image sensor – the same kind found in cameras all the way up to professional cinema models. The sensor is more than ten times larger10 than ones you would find in a typical smartphone, so it collects far more light and more image data, in order to create beautiful images and evocative bokeh effects.

Professional-looking bokeh at your command

The ZV-E10 makes it easy to shoot impressive images with a softly blurred background, like the kind you see in movies. The camera's large-size sensor makes this possible, allowing you to take striking shots where the subject really stands out against the background.

Impressive 4K movies
Making high-resolution 4K movies is as easy as pressing the MOVIE button, and the ZV-E10's large image sensor enables a beautiful range of colours. For maximum detail, the image sensor records 2.4x13 the volume of data needed for 4K, then condenses the data to produce the final recording.

Clean footage in dim lighting

Even when you're shooting in poorly lit settings, the ZV-E10 delivers beautifully detailed images with minimal noise. Once again, it's all thanks to the large size of the camera's image sensor, which maximises light collection. The result is clear, clean images even when shooting indoors with dim lighting or outdoors at night.

Built for Clear Voice Recording

The ZV-E10 makes it easy to clearly record your voice without any worries. The internal Directional 3-Capsule Mic is optimised to capture sound from in front of the camera, recording your voice clearly even when you're in a crowd.

Clear sound recording even outdoors in the wind
The ZV-E10 comes with a wind screen that reduces wind noise when you're shooting outdoors. Just attach the wind screen for worry-free shooting, and you won't have to adjust noise levels after shooting.

For even higher audio quality

Unlike with conventional analog audio transmission, you'll never need to worry about cable signal interference. Just pair the ZV-E10 with any microphone from Sony that supports a Digital Audio Interface via a Multi Interface (MI) Shoe for clear, low-noise, all-digital audio.

Simple remote connectivity with high-quality images

The ZV-E10 can be used as an online communication tool, a live-streaming camera, taking advantage of its large sensor and built-in mic. To use the ZV-E10 as an external camera, connect it to a PC or a Sony Xperia™ smartphone via a USB Type-C® cable connection.



SPECIFICATIONS & FEATURES
Designed for creative vloggers who aspire to an artistic look, the ZV-E10 takes care of the nuts and bolts of video production. Create a stunning vlog by taking advantage of interchangeable lenses, the large APS-C sensor, the built-in Directional 3-Capsule Mic and special features designed for vlogging – for a professional-looking vlog without the hassle.

- Interchangeable-lens camera for vlogging
- Large APS-C type 24.2-megapixel26 Exmor™ CMOS sensor
- Directional 3-Capsule Mic supplied with wind screen
- Features designed for vloggers – Product Showcase Setting, Bokeh Switch, Still/Movie/S&Q button
- Flexible connectivity for easy sharing

SENSOR TYPE
APS-C type (23.5 x 15.6 mm), Exmor CMOS sensor

NUMBER OF PIXELS (EFFECTIVE)
Approx. 24.2 megapixels

ISO SENSITIVITY (RECOMMENDED EXPOSURE INDEX)
[Still images] ISO 100-32000 (ISO numbers up from ISO 50 to ISO 51200 can be set as expanded ISO range.), AUTO (ISO 100-6400, selectable lower limit and upper limit), [Movies] ISO 100-32000 equivalent, AUTO (ISO 100-6400, selectable lower limit and upper limit)

BATTERY LIFE (STILL IMAGES)
Approx. 440 shots (LCD monitor) (CIPA standard)27

MONITOR TYPE
7.5 cm (3.0-type) type TFT